Skin and Common Disorders Anatomical Chart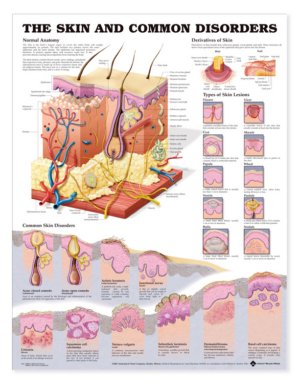 | | | |
| --- | --- | --- |
| Unmounted Chart | : | 9781587796128 |
| Flexible Laminate | : | 9781587796135 |
| Styrene Plastic | : | 9781587796142 |
| Size | : | 20" W x 26" H (51 x 66 cm) |
Shows cross sections of the skin, nail and hair anatomy. Describes the role of the epidermis, dermis and subcutaneous layer. Illustrates and describes types of skin lesions: fissure, ulcer, cyst, macule, papule, wheal, vesicle, pustule, bulla and nodule.

Also shows and describes acne (closed & open comedo), actinic keratosis (solar keratosis), junctional nevus (mole), basla cell carcinoma, squamous cell carcinoma, verruca vulgaris (wart), seborrheic keratosis, dermatofibroma, and urticaria (hives).

Optional display stands available for laminate and plastic charts only. See Chart Mounting Information.