Muscular System Clipboard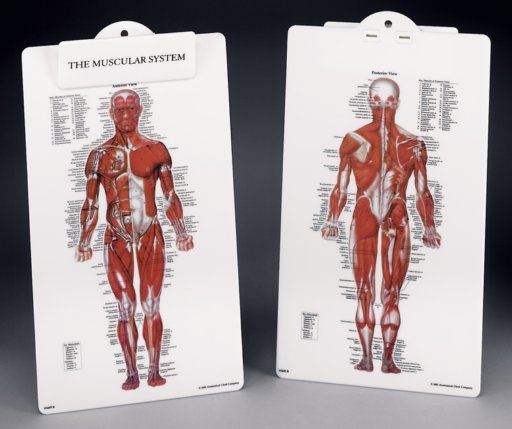 | | | |
| --- | --- | --- |
| Item | : | 8946PCB |
| Size | : | 9" W x 15.5" H (23 x 39 cm) |
Features our famous highly detailed illustration by Peter Bachin. Made of durable styrene plastic, permanently printed in full color, 9 in. x 15-1/2 in.

Developed for every health professional who needs to have a flat writing surface at their fingertips: a surface that is lightweight enough to carry with you wherever you go, one sturdy enough to hold the most voluminous medical records or accounts.

Custom designed and sized specifically for medical health professionals, our portable writing surfaces are made of durable plastic, and measure 9 inches by 15-1/2 inches, with a sturdy easy-to-use clip with a convenient snap-in pen holder. Each two-sided clipboard is embellished with extraordinary images taken from our archive of medical illustrations.

Shows anterior (on front) and posterior (on back) views of the muscular system. Each illustration is labeled with up-to-date terminology.